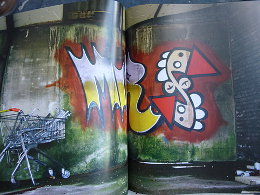 Trendbeheer's Niels Post got a sneak preview last week of the KBTR book, a photo book of Utrecht's best known graffiti artist.
The 160-page full-colour book will be published in a limited edition of 1,000 copies and will only be sold at The Revenge in Utrecht as of 27 October. Price: 45 euro. Says the official announcement: "The publication is not a historical work of reference, but an autonomous art project."
See also: Utrecht graffiti artist KBTR, the new Keith Haring?
(Photo by Trendbeheer/NP, some rights reserved)
Tags: graffiti, KBTR, street art, Trendbeheer, Utrecht