Dutch expat misses typical food in Germany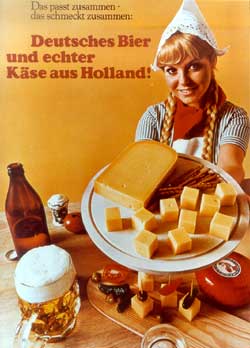 This week I came to work in Munich and stayed at 24oranges' third blogger, Eric. Eric is Dutch and has been happily living in Munich for four years. Germans keep asking him what he misses about his native country and it usually boils down to food.
What did I pack in my suitcase as a gift? Conimex Indonesian products from the supermarket. Dutch food is quite bland, which explains the Dutch's prediliction for Indonesian food. (Indonesia is a former Dutch colony.)
Eric also misses the junk food 'friet speciaal', French fries with mayonnaise, ketchup and onions and 'dropjes' (black, sweet or salty liquorice sweets), the latter I also brought.
Also, the chunks of Dutch cheese sold at the store are way too small and the major brand is called 'Pikantje van Antje' (seen above retro version), the German symbol for Dutch cheese in Germany, served with German beer of course.