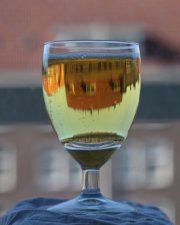 In an article about gross drinks people order in Dutch bars according to the bartenders who work there, one drink that came up a lot was red wine or white wine with cola. I'm thinking the wine has to be really cheap and used purely to put some alcohol in the cola, but the person ordering it is too cheap or broke to ask for rum, vodka or something else half way decent to go in their cola. Or it's really great and/or very popular and we're missing out.
Another questionable combo was alcohol with any kind of dairy: Malibu (coconut flavored liqueur) with chocolate milk or Safari (liqueur flavoured with exotic fruits) with Fristi (Dutch dairy drink with red fruits, usually for kids). Both drinks tell me you'll still a child, but want alcohol to help you grow up. Unscientifically, since the 1990s more and more young people start drinking alcohol by way of sweet drinks, and as you get older, you move into more normal tasting alcohol.
Last weekend I was in a bar in Amsterdam and a couple from London was trying to ask for a glass of half Amaretto and half brandy. I didn't mind my own business and asked why they wanted to drink that, if it had a name and what it tasted like. The answer came from the woman: "this is what my grandmother used to drink at Christmas and it reminds me of her". The drink had no name and she just said, "here, try it" and I did. It's OK, but the story is much better.
For all the newcomers, if you want to blend into a random Dutch bar, order a 'kopstoot' (a head butt): a shot of jenever (aka genever, no, not gin) and a beer (don't specify any further). If you're feeling adventurous, ask for 'zeer oude jenever' (very old genever) and skip the beer altogether.
(Link: munchies.vice.com)