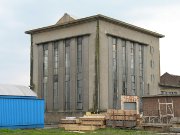 In a tongue-in-cheek article, daily De Pers figured out the ideal Dutch towns to live in for large groups of people:
For the poor, Vaals (in the Southernmost tip of the country), because it is apparently easy to get social security there. The town wants to crack down on social security tourism though.
For the gays, Hillegom (South of Haarlem), of which the Pink City Guide of Bureau Movisie says it's the gay friendliest town in the country. The municipality is working on a policy to support eldery gays, amongst others.
For the elderly, Kerkrade (Limburg). The paper quotes a citizen as saying: "Perhaps we can even draw older people from the rest of the country or even from abroad, because growing old in Kerkrade is fun." It doesn't say why it is fun.
For muslims, Alblasserdam (near Rotterdam). The town sports the highest percentage of muslims in the country.
For the handicapped, Huizen (East of Amsterdam), which is quick in allotting funds for medical needs.
For the Polish, Venray (Limburg), which realizes it will always need seasonal workers, so why not be nice to them.
For the drug addicted both Amersfoort (near Utrecht) and Utrecht (near Amersfoort). Junkies get free beer in the former town, and free methadone in the latter. (Pretty girls get free beer in Weert, Limburg. From the bar owners, that is.)
For the students, Sittard (Limburg), as it has the cheapest student housing of the country.
And finally, for sailors, the devoutly religious town of Urk (near nowhere in particular) which refuses to charge boat owners money for delivering electricity and water on Sundays, as that would constitute working on a Sabbath.
(Photo: an abandoned looking factory in Huizen)
Tags: Alblasserdam, Amersfoort, beer, elderly, handicapped, Hillegom, homosexuals, Huizen, Islam, Kerkrade, methadone, Sittard, social security, students, Urk, Utrecht, Vaals, Venray