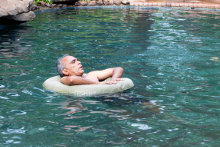 An OESO study has discovered that the Netherlands bucks the trend of the rich getting richer at the expense of those paying for the crisis.
Good news, then? Not really. Z24 points out that the Dutch poor are also getting poorer. The group of people that live below the poverty line has increased from 6.7% in 2007 to 7.8% in 2011. In this study 'rich' is defined as belonging to the top 10% in disposable income and poor as the bottom 10%.
The financial news site points out that the poor have lost less income than the rich, which is an interesting mathematical factoid, but otherwise devoid of meaning in my opinion. If the poor lose 1.5% of their income it means they go without food for another five days in a year, while for the rich it means they have to wait five days longer before they can purchase their next luxury car. Not quite the same difference.
A group of people that has done relatively well for themselves during the crisis is the elderly whose income has stayed the same. The group of 18 to 25-year-olds has seen their income drop since 2007 by well over 2%, although those differences are minimal compared to those of the same age groups in other countries such as New Zealand and Israel where the elderly are getting rich at the cost of everybody else.
(Photo by Meraj Chhaya, some rights reserved)
Tags: capital, economic crisis, income, Israel, New Zealand, poor, rich, wealth