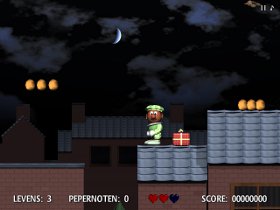 Tonight's pakjesavond, when Saint Nick visits the homes of many a European child to deliver presents.
I realise many of you won't be sharing in the fun because you have fallen for the trickery of the Arctic imposter. Fret not, though. With Wiering Software's video game Zwarte Piet you can experience the gift delivery process as if you were here in person.
Guide Black Peter across rooftops, collect the delicious pepernoten (lit. 'pepper nuts') and shove them together with gifts down chimneys. Mike Wiering has been producing new versions of this game every year, so if you don't like this particular version, try another. Tip: "Klaar! Zoek de uitgang" means "Claire! Find the exit".
UPDATE: We are very aware that many Dutch folks now consider Zwarte Piet a racist stereotype.
Tags: pepernoten, racism, racist, Sinterklaas, Zwarte Piet