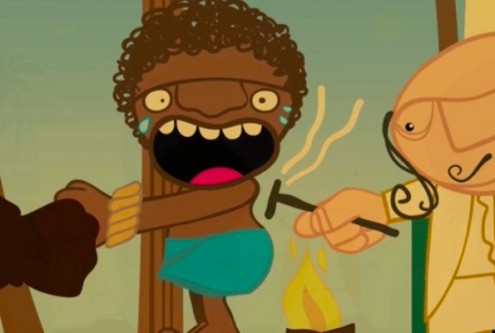 The City of Amsterdam subsidized a free educational game entitled 'Road to Freedom' that was 1.5 years in the making to teach children about Dutch slavery in Surinam. It was produced by the National Institute for the Study of Dutch Slavery and its Legacy and designed by Pepergroen to mark the 150th anniversary of the abolition of slavery.
The Afro-Surinamese community in the Netherlands wasn't thrilled with the game, but neither were the Americans at Apple who called the content "slanderous and insulting". A quick Google search shows that Apple is not a fan of anything with slaves in it, like this sweatshop app.
On the one hand, anything too culturally confrontational makes many people from countries with unresolved colonial pasts uncomfortable and on the other, anything that is presented in a game format already downgrades the importance of historical relevance. If I were at school today and someone gave me a flee from a Russian labour camp game, I'd have a real problem with it and so would my parents.
I do get what the makers were trying to do, but unfortunately they have managed to trivialize something that deserves a much better platform. A Dutch friend of mine would say, 'het idee is goed, maar de uitvoering is klote' ('The idea is good, but the execution is crap').
UPDATE The video we had up yesterday introducing the game has been pulled offline.
(Link: www.joop.nl, www.volkskrant.nl, Screenshot of the game before it was yanked offline)