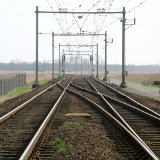 A one way train ticket from Roosendaal, a border station between the Netherlands and Belgium, to Brussels costs 6,50 euro less when buying it from Belgian railways (NMBS) than Dutch railways. A one way ticket from border station Maastricht to Brussels is even 8 euro cheaper, according to Metro.
The NMBS offers a 'Go Pas' pass, with which people can travel from either Roosendaal or Maastricht to Brussels for 14,60 euro there and back on the same day. With NS Hispeed (Dutch railways' international travel company), a day trip from Roosendaal to Brussels costs 26 euro.
The Belgians consider Roosendaal and Maastricht inland stations keeping the price down, while Dutch railways recently hiked its prices to Belgian destinations.
Since saving money is all the rage, there's always The trend of sharing unstamped train tickets through Facebook.
(Link: www.metronieuws.nl)